New Orleans @ Atlanta
Vegas: Atlanta -3
DomModel: Atlanta +0.969
Recommendation: New Orleans +3
Key injuries:
New Orleans Saints:
-WR Ted Ginn (knee) did not practice Wednesday (9/12). He did play week 2, but was limited on Wednesday (9/19).
-RB Mark Ingram is still suspended

Atlanta Falcons:
-WR Julio Jones (calf) did not practice Wednesday (9/19), but says on Thursday (9/20) it was "precautionary."
-S Keanu Neal tore his ACL in the opener.
-LB Deion Jones (foot) was placed on IR.
-RB Devonta Freeman (knee) was inactive for week 2. He also did not practice Wednesday (9/19).
-G Andy Levitre aggravated his existing elbow injury during his week 2 game and did not return. He is heading to IR.
Breakdown:
When New Orleans has the ball:
Oh baby, the Saints offense has been fun to watch this year. They rank 4th in Football Outsider's DVOA rankings and 2nd in their predictive DAVE rankings. What this means is New Orleans has been pretty damn good on offense, and the expectation is they should be even better. They have one of, if not the best offensive line in the NFL. Drew Brees was a little shaky last game, but he's still slinging it back there. Alvin Kamara has taken over full time running back duties while Mark Ingram sits (suspension), and he's been highly productive. Michael Thomas looks like a legit top 5 wide receiver, while Ted Ginn and Ben Watson have been solid complimentary pieces.
This offense fucks.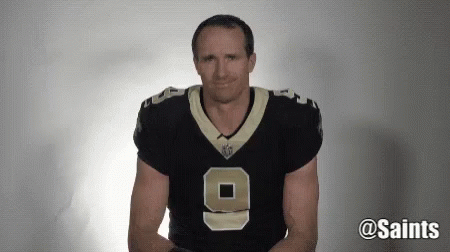 Atlanta defense:
Going into the year, I thought there was enough talent on the defensive side of the ball to take the Falcons to the next level. Unfortunately, Keanu Neal and Dion Jones are massive losses. They've looked half way decent so far this year, playing well against the Eagles in the opener but looking much worse last week against Carolina (the first game without both Jones and Neal). They do have decent corners (Desmond Trufant, Robert Alford) and have some productive players up front (Grady Jarrett, Brooks Reid, De'Vondre Campbell), but they are still a few pieces away.
TL;DR Conclusion: One area in particular that the Falcons struggle on defense is passes to running backs. Their scheme has more or less been to allow these passes while using athletic linebackers to quickly make tackles to negate the effects. I wrote last week  that losing Jones and Neal would make that issue even worse, and Christian McCaffrey torched the Falcons for 102 yards on 14 catches in the air. This should be a great spot for Alvin Kamara that has seen 23.68% of the Saints targets this year.
The New Orleans offense should overmatch the Falcons defense.
When Atlanta has the ball:
First, just a quick injury roundup: They should continue to be without RB Devonte Freeman, which isn't the end of the world since Tevin Coleman can do a lot of the things Freeman can do. Julio Jones missed Wednesday's practice (calf), and I have no earthly idea where that injury came from. He did play the entire week 2 game against the Panthers. The expectation is he should play until we hear otherwise. They will be without G Andy Levitre. Wes Schweitzer replaces Levitre, who is a pretty major downgrade. Schweitzer is a 6th round pick from 2016 that gave up 6 total pressures in two playoff games last year.
The Falcons offense has been a bit of a disappointment this year. They started the season off struggling against Philadelphia, which is understandable, then turned in an average effort against Carolina. Football Outsider's has them ranked 29th in offensive DVOA. If you ask me, which you are since you're reading this, the Falcons are a lot better than this. Their offensive line is still fringe top 10, they have a solid running game, above average quarterback, and decent weapons. If Julio somehow can't go, however, this line is going to sprint toward the model. Get the bet in yesterday.*
*UPDATE: As of Thursday (9/20), Julio Jones said his absence from practice was "precautionary." Let's be honest, he's going to play. You should still get the bet in yesterday, though.
New Orleans defense:
The Saints defense has been #notgood so far this year, ranking 31st in defensive DVOA. The biggest surprise has been their struggles in coverage – both Marshon Lattimore and Ken Crowley have not been themselves so far. Their pass rush has also been non-existent -Alex Okafor and Cam Jordan tie for the team lead with 5 pressures each. Though I don't think this defense will live up to how great they were last year (6th in DVOA), the expectation should be that this defense rebounds. Guys like Lattimore and Jordan are too good to be playing like this.
TL:DR Conclusion: The Falcons are an elite offense, but their dealing with some injuries. The Saints have struggled this year, but they should rebound.
The model thinks the line should slightly favor the Saints on the road, and we have them at +3 right now. This is solid value, especially considering the injury news is in our favor.