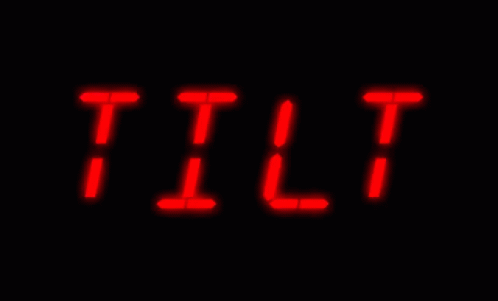 Week 7 is in the books and I'm on tilt. I want to go to a casino and put all my money on red. One god damn play cost us a winning week. We would be back in the black right now. Instead, we're sitting in the red – 1 game back of .500. Let's dive in.
LA Chargers (-6.5) over Tennessee
Vegas: LAC -6.5
DomModel: LAC -11.77
Recommendation: LAC -6.5
Analysis
Ah, good old London games. The bad news for us started Saturday evening, where word started spreading that starting RB Melvin Gordon had been downgraded to questionable. Next, we hear that he's going to be a game time decision. And finally, we hear the Chargers had signed an RB from their practice squad. That pretty much settled things that Gordon wasn't going to play, and he didn't.
How much of a difference does that make? At that time, it didn't seem like much. The line held steady at 6.5. Austin Ekeler had been solid in limited playing time this year, and we're in 2018, dammit. Screw running backs, this is a passing only game. As for the game, Ekeler ended up playing on over 95% of the snaps, and he struggled. I highlighted in the analysis that the Titans have a friendly run defense, and I have to think Gordon would have made a difference. Besides, Gordon is used heavily as a receiver as well.
Still, the Chargers offense actually played well. They scored on 4 of 7 drives and averaged 7.8 yards per play. They just didn't have the ball much, which was due largely to the Titans putting together a decent rushing attack. That stopped the Chargers from putting major points on the board, which makes it difficult to cover large spreads.
And yet – YET – were in good position to still win the bet. Down 20-13, the Titans needed a touchdown only to keep the game going. A field goal did them nothing. The hook was going to save us for the second week in a row. I started calling everyone in my cell phone, in order, alphabetically, telling them how much I love the hook. My goodness, the hook is real, and it's fantastic.
Then the Tennessee "offense" started to put together a drive. Ok, no big deal. Just stop them from getting 6 and we're still ok. But Tennessee kept driving. Eventually, Marcus Mariota rushed for 3 yards, getting stopped just short of the goal line. 4th down. One stop. One time*, and we win. Instead, the Chargers left TE Luke Stocker uncovered and Mariota hit him for the touchdown. Finally, because HC Mike Vrabel needs a wheelbarrow to contain his massive balls, he went for 2… and failed. Game over. Chargers win, FirstAndThirty loses.
*Not one time at all. There will be many more times.
Final Score: LA Chargers 20, Tennessee 19
Miami +3 over Detroit
Vegas: MIA +3
DomModel: MIA -9.782
Recommendation: MIA +3
Analysis
Ok, now we're heading into the 1:00 slate of games down 0-1, looking to the one and only Brock Osweiler to get us back to even for the week. Osweiler played amazingly (on a Brock Osweiler scale) especially considering his offensive line left him out to dry all day. 4 of the 5 Dolphins offensive lineman surrendered at least 3 pressures each, which is a lot of goddamn pressure. The receivers did what they could, but the running game was non-existent. All in all, the Dolphins offense did enough, as long as their defense could contain the Lions offense.
Yeah, that didn't happen. Matthew Stafford played flawlessly, routinely hitting the open receiver and never putting the ball in harms way. Rookie RB Kerryon Johnson was also fantastic on the ground, racking up 158 yards on 19 carries. In the end, it wasn't even close.
Final Score: Detroit 32, Miami 21
Kansas City (-6) over Cincinnati 
Vegas: KC -6
DomModel: KC -9.59
Recommendation: KC -6
Analysis
It's now Sunday night, and the tilt is real. We're 0-2 on the day, and I have thoughts about writing an 0-3 recap block. This makes me sad. I'm so tilted I'm literally falling over (or just drunk).
But wait! We have one more bet tonight, and we're back on Pat Mafuckinghomes. Friendly reminder: Mahomes literally isn't human. I have no earthly idea what that thing hanging from his shoulder is, but there is a zero percent chance it's a real human arm. Not buying it. Plus, we're fading Marvin Lewis in prime time? I'm back on team TRUST THE PROCESS. I wavered for a brief moment, but I'm back. .
OK, guess I'll watch this game then. Not like I have a choice anyway, football owns my soul. Luckily, the Chiefs made this easy for me. The game is over before it even started. Mahomes ends up throwing for 358 yards and 4 touchdowns. Kareem Hunt was breaking tackles and leaping defenders, you would have thought he was playing against parking cones. I'm pretty sure Hunt broke Dre Kirkpatrick's ankles so badly he's still lying on the field – someone should really check on him. I wish they made more versions of Pat Mahomes in the lab so I could keep betting him.
Final score: Kansas City 45, Cincinnati 10
YTD Results: 10-11-1
Week 1: 1-2-1
Week 2: 2-2
Week 3: 3-0
Week 4: 1-1
Week 5: 0-3
Week 6: 2-1
Week 7: 1-2
See you in week 8, bitches.