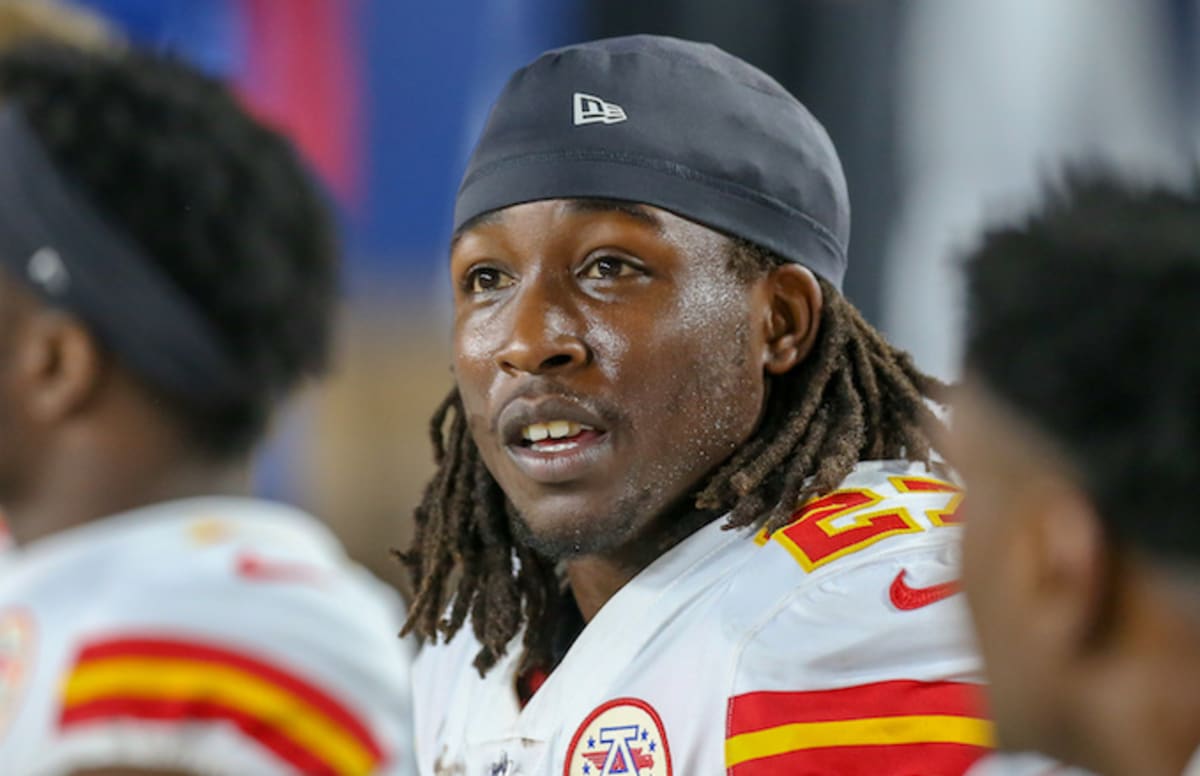 In case you've been living under a rock, you've without question heard the news about Chiefs RB Kareem Hunt. Last February, Hunt was caught on a hotel surveillance video shoving a girl and kicking her while she was down in a hotel last February. Yes, February.
So why was Hunt able to play the first 12 weeks of the season? Well, because the NFL appears to be totally okay with domestic violence, as long as it isn't caught on video. This satirical piece by the Onion, released after the Ray Rice incident, is sadly true.
Once the video came out, the NFL placed Hunt on the Commissioners Exempt List. The list essentially prevents players from playing or participating in practice, but they still get paid. It's used as a "fuck, this is a mess, we don't know how to handle it. Go on this list" type of response. Shortly after, the Chiefs released Hunt. Though I'm disappointed it took this long to sort this out, I'm glad Hunt will not be playing football for the foreseeable future. 
We have already recommended a Chiefs bet on this very site, and in my blog I further recommended that you sit and wait on the line to see if it moves to 14, or better yet, under 14. If you've waited, kudos for listening to our advice. If you haven't, please re-evaluate your life. The title of this site is "NFL Betting, done brilliantly." Everybody knows you can't lie on the internet.
If you've got a moral compass, you may be inclined to simply pass. I won't argue for or against that, but will provide some analysis in case you're still cool with betting the game.
When it comes to injuries, you need to consider who the player is, his impact, and who is replacement is. We all know about Kareem Hunt – he's a phenomenal talent in his second year in the league. It's nearly impossible to separate running back play from things other variables like offensive line, number of defenders in the box, etc, – but PFF attempts to do it with their "elusive rating." Hunt ranks 2nd in elusiveness, behind Nick Chubb. Football Outsider's ranks him 9th in DVOA. He ranks 4th in sharpfootballstats "success rate" stat. No matter how you spin it, he's good at football.
Ok, so he's good. But is he "important?" Well, let's ask the Chiefs. Here are the snap counts this year among offensive skilled position players on the Chiefs (data from Football Outsiders).
| | | | |
| --- | --- | --- | --- |
| Player | Position | Off Snaps | Off Snap Pct |
| 87-T.Kelce | TE | 679 | 95.20% |
| 10-T.Hill | WR | 630 | 88.40% |
| 27-K.Hunt | RB | 503 | 70.50% |
| 17-C.Conley | WR | 502 | 70.40% |
| 14-S.Watkins | WR | 459 | 64.40% |
Yes, Hunt has played 1 more snap than Chris freakin Conley. It makes sense too, as Kansas City is one of the more pass friendly teams in the NFL. In situations where the score differential is less than 10, Kansas City pass 64% of the time, which is 4th highest in the league (per sharpfootballstats.com). 
Here's another fun one:
-Hunt's DVOA as a runner: 7.2%
-Hunt's DVOA as a receiver: 78.4%
Hunt has been way more valuable as a receiver than a runner. But his job receiving isn't that hard. Hunt as an aDOT (average depth of target) of 1.67 yards this year. That means his average target is less than 2 yards behind the line of scrimmage. I'm so impressed, Kareem. That's really impressive. 
We also need to consider Hunt's replacement, Spencer Ware. Ware came into the league in 2013, and took over as the Chiefs starter in 2015. In 2016, Ware's first and only full season, he totaled 956 yards on 222 carries, good for a 4.3 ypc average. Since then, Ware has been riddled with injuries, which lead to the Chiefs drafting Hunt. He comes into this one fully healthy, familiar with the system, and ready to take control of the Chiefs backfield.
The video dropped around 12:30 yesterday, and the line immediately fell from KC -15 to KC -14.5 Since then, it's come down further to -14. Let's call it a 1 point drop, hitting a somewhat key break-point of 14, as Ravi Parikh's chart shows.
I'm totally fine with betting a 14 point spread. I'd much prefer it come down to 13.5, and I may wait and see if that happens. I'm thinking there won't be a ton of eager people to bet the Chiefs.
Fuck you, Kareem Hunt. I hope you're used as an example, and you're punished harshly. I hope the NFL finally starts taking this issue seriously.
I'm still betting on the Chiefs, though.