Minnesota @ Seattle
Vegas: SEA -3
DomModel: SEA -5.027
Recommendation: SEA -3
Key injuries:
Minnesota Vikings: (MNF)
-CB Mike Hughes (torn ACL) is out for the year.
-CB Trae Waynes (concussion) was injured week 13.
-S Andrew Sendejo (groin) was INACTIVE weeks 6 – 12.
Seattle Seahawks:
-TE Will Dissly (knee) is out for the season after injuring it week 4.
-RG D.J. Fluker (hamstring) was injured week 13.
-DT Shamar Stephen (foot) was INACTIVE week 13.
-LB K.J. Wright (knee) was INACTIVE weeks 11 – 13.
-S Earl Thomas (leg) is out for the season after injuring it week 4.

Breakdown:
When Minnesota has the ball:
The Vikings are heading into Seattle featuring an offense that can excel, but has problems. Starting at QB, Kirk Cousins is having a fine season. He's completing over 70% of his passes with a favorite TD:INT ratio (23:9). Cousins also has one of the better 1-2 combinations at receiver with Adam Thielen and Stefon Diggs. Thielen is already over 1,100 yards with 9 TDs, and is closing in on 100 catches. Diggs missed a few games in the middle of the year, but still is at 84 catches/839 yards/6 TDs. You'll primarily see Thielen operating out of the slot with Diggs outside.
The problem is there's a fairly significant drop off after that. Third on the team in targets is TE Kyle Rudolph, who has topped 50 yards just 3 times this year. The Vikings also have one of the worst offensive lines in the league, and rank dead last in rush offense DVOA.
Seattle's defense:
Seattle's defense tells a similar tale as the Vikings offense. Though they come in ranked similarly in DVOA vs the pass and run (16th and 15th,
respectively), breaking down the defense gets interesting. LB Bobby Wagner is doing what Bobby Wagner does — tackling anybody in his sight to perfection. Wagner is the only player in the NFL with more than 50 tackles who has yet to miss a single one (Wagner has 73). If you see Bobby one the straight — don't panic — but he's probably going to tackle you and it's probably going to hurt.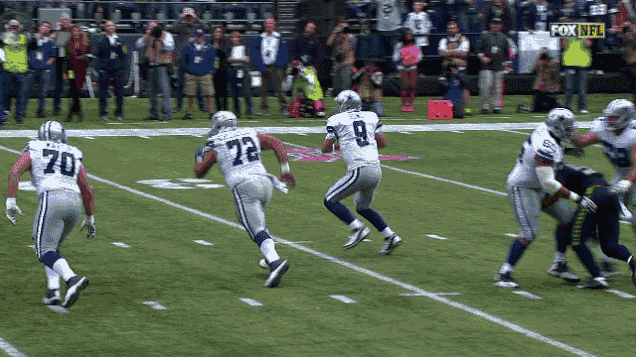 Off the edge, Frank Clark has an impressive 43 pressures and 11 sacks. DI Poona Ford has played exception against the run, clogging up any running lane the offense tries to create. Finally, S Bradley McDougald has been a reliable player in the secondary, especially since Earl Thomas got injured.
And that's the story with the Seahawks. They have playmakers at all levels, but just do not have enough depth to put it all together. 
TL;DR Conclusion: This should be a fun matchup. Both teams to a few things right, and a few things poorly. I have a feeling this one will come down to coaching.
When Seattle has the ball:
Russell Wilson has strikingly similar numbers to Cousins, 66.6% completion percentage with a 29:5 TD:INT ratio. As expected, he's playing well.
Also, similar to the Vikings, the Seahawks are extremely reliant on two receivers in the passing game. You'll mostly see Doug Baldwin operating out of the slot, and speedster Tyler Lockett stretching the field. Lockett himself has turned into a touchdown machine, snagging 1 touchdown in 9 of his 12 games. Behind Baldwin and Lockett is David Moore, who is about as inconsistent as it gets. Moore legit threw up an air ball last week – like legit, not a single target — but went off for 103 yards and TD the week before.
For the running game, you'll mostly see Chris Carson with shades of rookie Rashaad Penny. Carson has had a decent season, racking up 4.4 yards per carry on 157 attempts. Penny has been injured and inconsistent (last 4 games yardage totals: 108 -> 46 -> 4 -> 65). 
The offensive line still sucks. They haven't been good since they traded C Max Unger before the 2015 season.
Minnesota's defense:
The Vikings have a very well rounded defense, they rank 11th in pass DVOA, 9th in run, and 6th overall. DE Danielle Hunter is up to 55 pressures and 12 sacks on the year. He typically teams up Everson Griffin to form a solid pass rush. 
Against the run, they use solid interior guys like Linval Joseph and Anthony Barr. They'll also sneak up S Harrison Smith into the box, and he's essentially incredible at whatever he does. 
At corner, they'll feature the always reliable Xavier Rhodes and Trae Waynes (if he can play). 
It's a well rounded, solid defense.
TL:DR Conclusion: This is one of those games where if you asked me to predict it, I'd shrug my shoulders and crack another beer. Luckily, I have a model to do it for me. The one thing I will say is I consider CenturyLink Field is one of the toughest stadiums in the NFL to play, but the model gives every home team a flat 2.5 point advantage. If you're into that sort of thing, that's a slight advantage to the Seahawks that the model isn't considering. 
That's it for now, bitches.