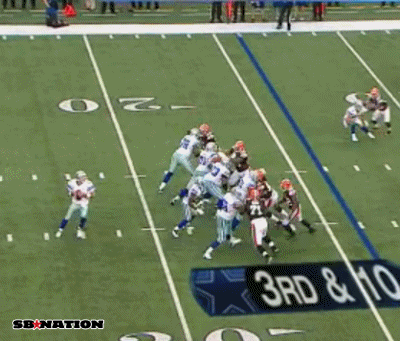 As we approach the later part of the season, we need to be aware of teams that aren't doing everything they can to win every game. It's especially true if you follow us, because the model has no idea who is tanking and who is going all out.
Lesson 1: Players don't tank
The first thing to note about tanking is players simply don't do it. I constantly see talks about players having "no motivation" because either their team is out of playoff contention, or their team is locked into their seed. It's all bullshit. These players are literal football machines – they've been training their entire lives for this game, and they go all out every single time they step on a football field. Also, they're playing for real dollars – both directly through contract incentives and indirectly through future contracts. The thinking that players need playoff motivation to give it 100% on the football field is absurd.
Lesson 2: Coaches do tank, but they can be subtle about it
Coaches are different. They're much more inclined to be thinking about things like future draft picks, and keeping players healthy for the future. The thing is they can't come right out and say that they're tanking, so you have to look for clues. The most common example is players that are technically injured, but are certainly capable of playing. Coaches will hold them out anyway, because there's just no point in risking their health.
My advice is to follow the injury news closely – we track everything here and provide links to every teams injury report. Be aware of which teams aren't motivated and key players that are appearing on the injury reports as limited or not practicing. It's more likely that those players won't suit up. Of course, we factor all of this in when we recommend bets.
Let's break down what's currently going on
Confirmed tankers
1) Carolina Panthers – they are holding out Cam Newton for the rest of the season due to a shoulder issue. The model is NOT accounting for this, and that's why Carolina is listed as the best bet of the week. That's an easy fade.
2) Jacksonville Jaguars – last week, they played their workhorse back Leonard Fournette 1 snap in the second half and had him returning kicks for the first time since his freshman year in college. After the game, Fournette revealed that the plan was to limit his carries so the team can get a look at David Williams. Fair enough — Williams is a talent that the Jaguars clearly need to look at. I mean, he's a rookie who was passed on just 225 times in the 2018 draft. Sure, he was cut by the team that drafted him (the Broncos), but they did put him on the practice squad. You can't have a guy like that riding the pine – you simply have to get him out there.
Potential Tankers
1) Los Angeles Rams – HC Sean McVay has shown a preference to hold out players rather than fight for seed. RB Todd Gurley is currently nursing a knee injury, and I wouldn't be surprised if he sits. They currently do NOT have a bye secured, so there is still plenty of motivation. I'd expect every other healthy player to be active.

2) NY Giants – Odell Beckham has been legitimately inactive with a quad injury. The Giants are a prime tanking team for a better draft pick, so even if he's healthy to go I wouldn't expect him to play. He's also not practicing this week.

3) Arizona Cardinals – They actually aren't tanking but they're so bad it's kinda like they are tanking.
The current playoff picture 
CBS is providing an in depth picture here. Note that nobody has their seed locked in yet, so any playoff team still has motivation.

Some quick notes
-The Chiefs and Chargers are fighting for the division. The loser will get the 5th seed and the winner will likely have get a first round bye with homefield throughout the playoffs. They are extremely motivated. For the Chargers, I'm expected Melvin Gordon to return from injury and Keenan Allen to play through a hip injury.
-The Texans, Patriots, and Steelers are fighting for a bye and are therefore extremely motivated.
-Every other team in the hunt in the AFC is obviously motivated.
-The Rams, Saints, and Bears have all clinched their division. All 3 need to continue winning for a bye (the Saints and Rams are currently 1-2).
-Every other team in the NFC either currently in the playoff or in the hunt is motivated.

There will be a lot more teams in week 17 that have their fates decided. I'll check in then.
That's it for now, bitches.