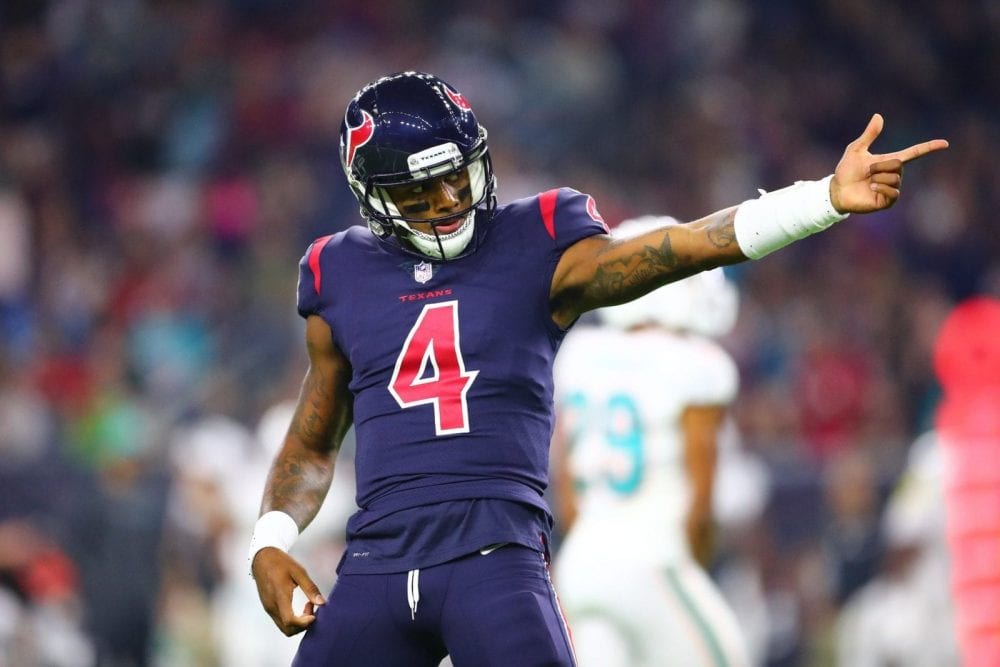 The NFL season is drawing to a close. I am sad, but let's not bring up negative feelings. It's the holidays, after all.
Houston (+2.5) @ Philadelphia
Vegas: PHI -2.5
DomModel: PHI +2.796
Recommendation: HOU +2.5
Analysis
I wasn't very nice to Nick Foles in the analysis blog. I called him an inconsistent quarterback – though I acknowledged he is capable of stellar games, I firmly believe the public is overestimating him because of recency bias. I want to be very clear that I stand by that analysis, despite the fact that big dick Nick Foles put together an absurdly impressive game against the Texans.
But here's the thing, we fucking won anyway.
We knew going into this one that the Eagles pass rush vs the Texans offensive line was a total mismatch, and it showed. The achilles heal for the Eagles is their secondary – they're so banged up at corner they are literally playing guys off the street. The problem is a mobile quarterback like Watson can extend plays and has one of the better receivers in football who is going to get open. Watson was constantly under pressure in this one, but it just didn't matter. He ended up going 29/40 (72.5%) for 339 yards (8.9 average), 2 TDs, and 0 picks. Hopkins was targeted an absurd 12 times, which he turned into 9 catches for 104 yards. The Texans passing attack was a force that simply was not going to be stopped.
The thing is, the same is true for the Eagles. We got a bit lucky when perpetual pro bowler RT Jason Peters exited just 3 snaps in with a quad injury. That allowed Jadeveon Clowney to be completely disruptive. The problem for the Texans — much like the Eagles — is their secondary. Foles — like Watson — was also unfazed by pressure, completing 35/49 passes (71%), for 471 yards (9.6 average), 4 TDs, and 1 pick. Zack Ertz turned 16 targets into 12 catches, 110 yards, and 2 TDs. Nelson Agholor also went over 100 yards, including a long 83 yard touchdown reception.
The result was a high scoring, entertaining back and forth game. The Texans were up 16-13 at the half, but then the Eagles scored 10 unanswered in the 3rd for a 23-16 lead. The key for us was a long touchdown drive from the Texans that gave them a 30-29 lead. There was enough time for one last drive for the Eagles, but anything other than a touchdown for them would result in a win for us. Philadelphia ended up driving the length of the field and kicking a last second, game winning field goal. That gave them a 2 point win, and a .5 point win for us.
Final score: Philadelphia 32, Houston 30
Chicago (-4) @ San Francisco
Vegas: SF +4
DomModel: SF +10.304
Recommendation: CHI -4
Anaylsis
Remember entertaining, high scoring games? Well, this wasn't any of that.
The 49ers should be happy with the performances of 2017 UDFA Nick Mullens so far, but as I pointed out in the analysis blog, his schedule of games have been insanely weak. On Sunday, he had to deal with the best defense in football, and it went predictably poorly for him. Mullens completed just 57% of his passes for 241 yards and a pick. The running game was non-existent – part of that was Matt Brieda's injury — but it was mostly due to lack of run blocking that lead to the 49ers backs getting hit early. The 49ers ended up not being able to score a single touchdown, and instead had to settle for 3 field goals.
The Bears were insistent on establishing the run, pounding the rock 28 times. The problem was the gained only 3.2 yards per carry as a unit, and that lead to struggles for the offense. Luckily, Mitch Tribusky actually put together a solid game. Tribusky successfully spread the ball around, hitting 10 different receivers. In the end, he completed 86% of his passes for 246 yards (8.5 ypa) and a touchdown. The Bears struggled offensively, but that performance from Tribusky was more than enough.
Final score: Chicago 14, San Francisco 9
Denver (-2.5) @ Oakland
Vegas: OAK +2.5
DomModel: OAK +9.355 
Recommendation: DEN -2.5
Analysis
This one started off ugly, and finished uglier. On the first drive, the Broncos punted to the Raiders own 1, where Raiders return man Dwayne Harris took it 99 yards to the house. The Broncos then couldn't get anything going offensively, going punt/punt/punt/punt/missed field goal to end the half. By then, it was already 17-0 Oakland.
Oakland's game plan from there was to limit the ask of QB Derek Carr and to rely heavily on the run, which worked perfectly. Doug Martin ended with 107 yards on 21 carries (5.1 average). The Raiders were able to sustain long, clock killing drives that perfectly protected their lead. Meanwhile, Broncos pro bowl RB Phillip Lindsay had to exit with a wrist injury, and the Broncos passing attack never got going until the game was already decided.
Final score: Oakland 27, Denver 14
YTD Results: 26-24-1 (52%)
Week 1: 1-2-1
Week 2: 2-2
Week 3: 3-0
Week 4: 1-1
Week 5: 0-3
Week 6: 2-1
Week 7: 1-2
Week 8: 2-1
Week 9: 3-2
Week 10: 1-2
Week 11: 3-0
Week 12: 2-1
Week 13: 2-1
Week 14: 1-3 
Week 15: 0-2
Week 16: 2-1
That's it for now, bitches.