LA Rams @ Carolina
Recommendation: LAR -2.5
Cover Probability: 53.91%
Cover Edge: 2.92%
Key Injuries
Los Angeles Rams:
-Healthy
Carolina Panthers:
-QB Cam Newton (foot) was injured in the 3rd preseason game. He will play week 1.
-OT Greg Little (concussion) is in the concussion protocol. He is OUT week 1.
-DE Bruce Irvin (hamstring) is OUT week 1.
Breakdown
When the Rams have the ball:

Despite their 3 point clunker in the Super Bowl (kind of a big game), you probably don't need me to tell you that the Rams had one of the best offenses in football last year. When the entire team was healthy, they deployed a constant 11-personnel attack (1 RB, 1 TE, 3 WRs). The pass-friendly scheme lead to the Rams constantly facing light boxes. Meanwhile, the Rams had a top offensive line and a running back named Todd Gurley (maybe you've heard of him). The result was a rushing attack so efficient that, per Football Outsiders, their rushing DVOA (21.3%) would have tied for 10th in passing DVOA. That is quite simply absurd, as passing is insanely more efficient than running in today's NFL. At wide-out, the Rams were bringing out arguably the most talented trio out there — Robert Woods, Brandin Cooks, and Cooper Kupp. The Rams were calling play-action on an absurd 50% of passing first downs — and teams had to respect the run threat. It's easy to see how easy it was for the Rams to be hyper-efficient.
The problem was injuries: Cooper Kupp missed half the year with a torn ACL, and Todd Gurley battled knee issues. That forced the Rams to adopt different schemes, and their offense took a bit of a hit. This year, Kupp is back and fully healthy for game one. Gurley is healthy too — but has a history of knee issues going back to his days at Georgia, he likely cannot continue to be the workhorse back that he once was. That lead to the Rams drafting RB Darrell Henderson in the third round and holding onto backup Malcolm Brown. So even if the Rams can't go back to their strategy of simply keeping the same 11 guys on the field at all times, they should at least be healthy enough to wreak havoc on NFL defenses everywhere.
As for the offensive line, their returning LT Andrew Whitworth, RT John Havenstein, and RG Austin Blythe. All 3 are incredibly solid, including 37 year old Whitworth. The question marks will come at the other two positions, where rookie Joseph Noteboom will replace Rodger Staffold at LG, and 2018 4th round pick Bruce Allen will replace John Sullivan at center.
If you're at all familiar with the Panthers 2018 defense, well, too damn bad. They've replaced almost everybody. The basic projection is they're incredibly strong up front, but weak in the secondary. Though they are returning their top edge rusher Mario Addison, they lost their second best edge rusher Julius Peppers to retirement and their third best edge rusher Wes Horton to the Saints. Starting opposite Addison will be 16th overall selection Brian Burns. Burns is likely undersized for the NFL and could struggle against the run, but he'll make life a god damn nightmare for NFL quarterbacks. The interior, meanwhile, is completely different — the Panthers brought in Gerald McCoy, Dantrai Poe, Kawann Short, and Vernon Butler. Expect McCoy and Short to be on the field at all times with Poe playing NT in base. At linebacker, they are returning all-world Luke Keuchly, but Thomas Davis is gone. Davis's replacement should be 2015 first round pick Shaq Thompson.
Now, onto the secondary, which Jared Goff should have zero issue picking apart. Though the Panthers did bring back old friend Tre Boston to play FS, the bright spot ends there. Their corners are abysmal – Donte Jackson and James Bradberry will return — both were both extremely generous to opposing offenses last year. Manning the slot will be Ross Cockrell, who hasn't played since 2017. Since the Rams will play with 3 receivers on the field, they'll need a lot from this group. I don't see it going well against this Rams offense.
When Carolina has the ball:
The Panthers started off 6-2 last year and finished with 7 wins. These are facts. So what happened? Well, a few things, but the biggest factor was Cam Newton's shoulder. It was an issue from week 10 after playing on short rest for a Thursday Night game, and ended with Newton missing the last two games of the season and getting corrective surgery in January. Early on in training camp, Newton still wasn't throwing, and there were even whispers that the Panthers might just pull the plug on this season to get Newton ready for 2020. That obviously isn't happening, but it's fair to question the effectiveness of his shoulder to start the year.
For the Panthers skilled position players, not much has changed. Though they did lose Devin Funchess, who gives a shit? That will thrust 2018 1st round pick DJ Moore and Curtis Samuel as the two starters at receiver. Moore is looking to improve on his solid rookie season, and Samuel is getting all of the training camp buzz for stellar play. He's a converted running back playing wide receiver for just the third year of his life, so it's certainly easy to see that there could be progress there. At tight end, Greg Olsen is back for now, and do it all running back Christian McCaffrey will return for another year where the Panthers ask him to… do it all.
Even though long time center Ryan Kalil retired, the Panthers brought in ex-Broncos center Matt Paradis. Paradis probably isn't much an improvement over Kalil in his prime, but Kalil was constantly battling injuries and had his play decline, so I'll take 2019 Paradis over 2018 Kalil. Trai Turner and Greg Van Roten will return to play the guard positions, and Taylor Moton will be back to play RT. The biggest question mark is LT, where Daryl Williams will get the nod after missing all of 2018 with a dislocated knee cap and torn MCL (ouch).
The Rams defense starts with the best player in football: Aaron Donald. Donald plays the inside and is perpetually double teamed, but still lead the league last year in QB pressures and sacks. He's a legitimate beast. Like, an actual beast. I'm not convinced this man, who also runs a 4.68 40, is the same species as us.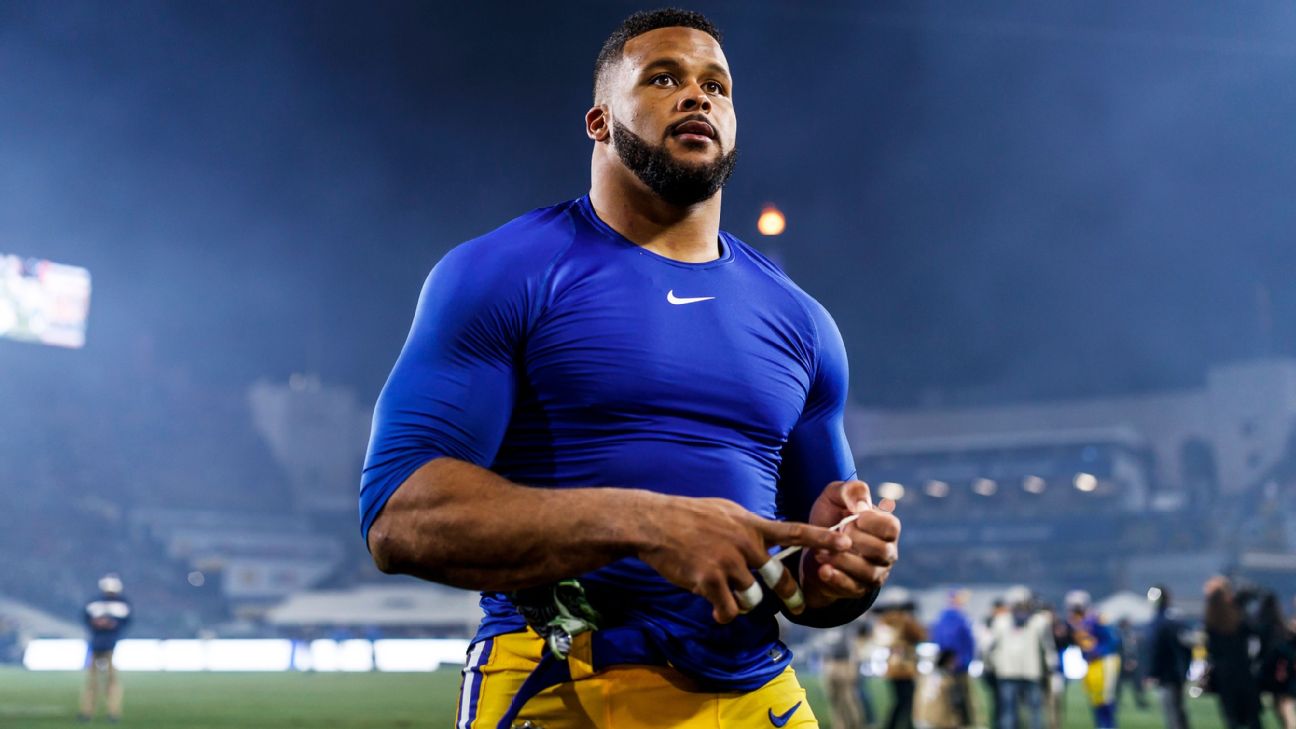 The problem with the Rams is their defensive front ends there. They tried bringing in Ndamukong Suh, who single-highhandedly pays Roger Goodell's salary with his fines, but Suh wasn't his usual self and the Rams let him walk to the Bucs this off-season. The result is all teams have to do to play well on the ground is run away from Donald, and they've had success doing it. In the off-season, the Rams did nothing to combat this issue short of drafting NT Greg Gaines in the fourth round. They did re-sign midseason acquisition Dante Fowler to set the edge, and brought in Clay Matthews to start opposite Fowler. Though Fowler still hasn't lived up to his draft hype that lead to him being selected 3rd overall, he's still a solid pass rusher who is only 25 years old and entering his 5th year. Matthews is obviously past his prime, but he'll contribute when he isn't being called for bogus late hit penaltie.
For the Rams secondary, they tried. They really did. Last year they brought in top corners Aquib Talib and Marcus Peters. Peters struggled, and Talib was constantly injured. That's a concern for the now 33 year old Talib, but for one game betting purposes, whatever — the dude was still very solid when healthy. The Rams should be fine for now everywhere else — Nickell Roby-Coleman has enjoyed a fine career as a nickel cornerback literally named Nickel(l). The Rams brought in 34 year old, future hall of famer Eric Weddle to play safety. John Johnson will man the strong safety position, he's entering his third season with the Rams and has excelled in coverage and against the run in his first two seasons.
Not that my opinion matters, but I agree with the model that the Panthers simply won't be able to keep up with the high powered Rams offense.
That's it for now, bitches.