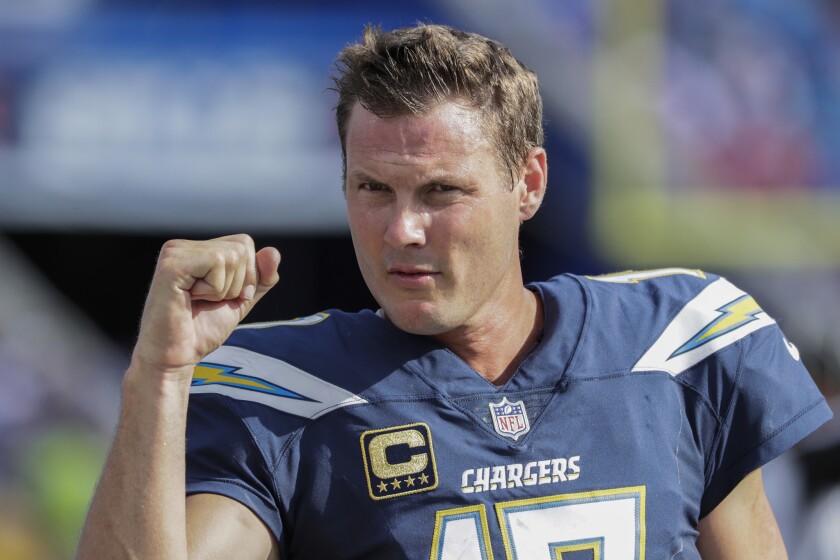 LA Chargers @ Denver
Wager: LAC -2.5
Cover Probability: 55.0%
Cover Edge: 5.0%
Key Injuries:
Los Angeles Chargers: (Week 12 bye)
-LT Russell Okung (groin) was injured week 10 and INACTIVE week 11. He is QUESTIONABLE, but practiced in full on Friday (limited Wednesday/Thursday).
-RT Sam Tevi (knee) was injured week 9 and INACTIVE weeks 10 and 11. He is QUESTIONABLE after being limited all week.
-S Derwin James (foot) will return to play his first game of the season.
-S Adrian Phillips (forearm) will return off IR.
IR: CB Trevor Williams (quad)
Denver Broncos: (Week 10 bye)
-RT Ja'Wuan James (knee) was injured week 8. It was a previous injury that had kept him out the entire season. He was INACTIVE weeks 9 – 12. He is QUESTIONABLE, but practiced in full all week.
-NT Shelby Harris (ankle) is QUESTIONABLE. He did not practice Wednesday and was limited Thursday/Friday.
-LB Von Miller (knee) is QUESTIONABLE. He did not practice Wednesday or Thursday and was limited on Friday. He is a 50/50 game time decision.
-LB Alexander Johnson (knee) is QUESTIONABLE. He did not practice Wednesday/Thursday and was limited on Friday.
-CB Duke Dawson (concussion) was injured week 12. He is QUESTIONABLE after not practicing Wednesday/Thursday and being limited on Friday.
IR: QB Joe Flacco (neck), DE Bradley Chubb (torn ACL), CB Bryce Callahan (foot)
Spread Breakdown: The spread opened at -1 and was quickly bet up to 2.5 where the model grabbed it. The spread now sits at 3. 2.5 to 3 is naturally a big line jump, so I hope you got your damn bets in early.
Matchup Breakdown:
When the Chargers have the ball:
The Chargers have a middle of the road offense, ranking 12th in DVOA. Their biggest issue is their offensive line that features 5 revolving doors. Though both starting tackles (Sam Tevi and Russell Okung) have a decent shot at returning, I wouldn't expect it to help much. Okung has missed most of the season with blood clots and hasn't locked good in limited action, and Sam Tevi is just flat out bad at football. I track all injuries because I'm a loser, but I don't think it really matters if either player returns or not. The line just sucks.
Let's talk Phil Rivers, who is 37 years old and has at least 9 kids. 9 kids! I have to imagine Rivers has a super mansion, having made approximately a fuck ton of money playing football. So how do you keep track of 9 kids in a super mansion? I imagine a lot of nannies are involved, but how do you deploy them? You could go zone, where a nanny is responsible for a certain part of the house, or you could go man to man, where each nanny has to keep track of a specific kid. Do you double team the problematic ones? I'm just here to ask the questions, I don't have all of the answers.
If you've paid attention to Rivers career at any point you probably know the kind of QB he is. He isn't taking over games by himself, but he's more than enough to win. This year he's completing 64.4% of his passes, good for 7.6 yards per attempt, 15 TDs, and 14 picks. Those picks don't seem to be the result of bad luck, as PFF has charted him with quite a few "turnover worthy" plays. He's smack dab in the middle in PFF grades and DVOA rankings.
The skill positions are where the Chargers excel. Keenan Allen is already at 105 targets and 70 catches this year. TE Hunter Henry has been hurt for a good chunk of the season, but when he's on the field he's been insanely productive — Rivers has a 114.8 QB rating when targeting Henry. Austin Ekeler is one of the best receiving backs in all of football, and WR Mike Williams is big body complimentary piece. On the ground, both Melvin Gordon and Ekeler are both solid runners. Now that everyone is healthy and not holding out, there's more than enough talent around to do damage.
The Broncos defense mirrors the Chargers offense in mediocrity. Their pass rush is surprisingly bad, as Von Miller is the only player capable of getting pressure on the QB. It doesn't help that Miller, who is a true 50/50 game time decision with a knee injury, is having a down year. His PFF grade is typically in the 90s, but he's sitting at "just" 76.7 this year. Their secondary is lead by two elite safeties in Justin Simmons and Kareem Jackson, as well as CB Chris Harris Jr. Harris is typically a slot corner, but this year he's been used to shadow outside receivers as well. I'd fully expect him to be on Allen, who primarily operates out of the slot. Their other two corners are Davontae Harris and Duke Dawkson, both are bad and Dawson is hurt. Even if Harris is able to limit Allen, the other Chargers weapons shouldn't have an issue getting open — particularly Hunter Henry and Austin Ekeler, who will have a plus matchup against the Broncos bad coverage linebackers. Against the run the Broncos are 10th in DVOA, but who the hell cares about the run game anyway.
When the Broncos have the ball:
Drew Lock, ever heard of him? Well, if you're not a college football fan you probably haven't, since he'll be making his NFL debut on Sunday. Lock, who is a rookie out of Missouri, sprained his thumb on his throwing hand in the preseason and was placed on IR before the season started. The scouting report on the 6'4, 228 pound QB is a player with a strong arm who is very good at going through progressions, but occasionally struggles with pressure and accuracy. I tend to believe the accuracy issues, as they line up with what fivethirtyeight found in a very good write up on the upcoming college prospects here. In other words, Drew is anything but a Lock (had to). However you view his future NFL career, I'm still happy to be betting against an rookie making his NFL debut.
As for the rest of the Broncos offense, they're not good. Their line blows, and they don't have any receivers outside of Courtland Sutton since they traded away Emmanuel Sanders. Sutton, to his credit, is up 50 catches for 832 yards, and has a 114.6 QB rating when targeted. Behind Sutton will be Daesean Hamilton and Tim Patrick. Hamilton has 11 catches in 11 games, and Tim Patrick is a 2018 UDFA who has only played 3 games this year. Lock is stepping into a passing offense that has a worse passing DVOA than the Dolphins. Not ideal. The run game is sitting at 11th in DVOA, thanks to Phillip Lindsay and Royce Freeman, both of who have been very good this year.
Lock and is his piss poor supporting cast will be taking on a Chargers defense that is also piss poor. The Chargers are 25th in DVOA, with splits of 22nd against the pass and 27th against the run. Their pass rush is better than average when Joey Bosa and Melvin Ingram are both on the field together (which they will be for this game), but their secondary has been awful outside of CB Casey Hayward. The good news for the Chargers is reinforcements are on the way — both safeties who are on IR, Derwin James and Adrian Phillips, have been activated off IR and should play. Derwin James hasn't played a snap this season, but he was flat out unreal in his rookie season last year, having been rewarded with 1st team all pro honors. James is a jack of all trades safety — he can cover, play against the run, and even rush the passer. I don't expect him to save the Chargers defense, but it's just flat out good for football to have him back on the field. He and Jamal Adams should battle it out for the top safeties in football for years to come. Against the run, the Chargers just don't have any players that I can write anything nice about, so I won't write anything at all.
Win it by a field goal or more, boys.
That's it for now, bitches.