Week 11 is in the books, and we put together a perfect week. Before I get into the recap, some quick notes. The model pulled a Vegas consensus spread for the Baltimore/Cincinnati game as Baltimore +4.5, when in reality it was -4.5. It didn't impact much, the model still liked Baltimore because it wasn't accounting for the QB change, and we faded it for that reason. I just wanted that to be out in the open. We'll get it fixed for next week. We also have some pretty big changes to how the site looks ready to roll out. We'll get it out there at some point this week. It'll still look shitty, because we suck at web development, but Dom and I both think it's a massive improvement (and thanks to Dom for basically doing everything).
We'll also do our best with getting the content out for week 12. Turkey Day is a bit of an obstacle, but I'll make sure any game we bet on has a blog post out before the game.
Tampa Bay Buccaneers @ NY Football Giants (-1.5)
Vegas: NYG -1.5
DomModel: NYG -6.622
Recommendation: NYG -1.5
Analysis
As highlighted in Sunday Morning Mimosas and Line Movements, we grabbed this game at 1.5, but the line moved all the way to 3 as the week went on. It's another important reminder to get bets in early if the model highlights it.
As for the game, we were reminded yet against just how bad the Bucs defense is. The MVP of the game was RB Saquon Barkley, who totaled 142 yards on the ground (27 attempts) and 2 touchdowns. No big deal.
Meanwhile, the Giants offensive line also dominated in the trenches, giving Eli plenty of time to throw when he needed to. Speaking of Eli, he completed a casual 94.4% of his passes for 231 yards and 2 touchdowns.
We were also fortunate to get bad Ryan Fitzpatrick in this one, as he threw for 3 picks and was benched. This was the third time the Bucs have benched their starter this year, and are now going back to Jameis Winston for their next game. Speaking of Winston, he did stage a late game comeback, but it just wasn't enough.
Final score: NY Football Giants 38, Tampa Bay 35
P.S. That's a brutal back door push if you didn't get in before the line moved to 3.
Minnesota @ Chicago (-2.5)
Vegas: CHI -2.5
DomModel: CHI -9.227
Recommendation: CHI -2.5
Analysis
The Vikings offense started off horribly. They couldn't get the run game going, and Cousins did nothing in the first half except throw a pick (that's not good). Minnesota had a goose egg until the third quarter.  For the Bears, it was just the best defense in the league playing like the best defense in the league.
Meanwhile, Chicago wasn't doing much offensively, which was to be expected. That said, their defense put them in such a position where they just had to score something and kill clock. In the 2nd quarter, the Bears put together a drive that originated from their own 18. It was a series of short throws, designed runs, and QB scrambles that resulted in a touchdown and a 2 point conversion. It was enough to put Chicago up 14-0 after the first half.
That put the Vikings in a position where they had to play catch up, but it just wasn't happening. Going into the 4th quarter, now down 14-6, Cousins threw a pick 6 that essentially sealed it. To make matters worse, the Bears offense kept putting together long, clock killing drives. You can't play catch up when you aren't on the field. And you definitely can't do it throwing pick sixes.
For the spread, a late game field goal ended up saving us.
Final score: Chicago 25, Minnesota 20
Kansas City (-3.5) @ Los Angeles Rams
Vegas: LAR -3.5
DomModel: LAR +0.157
Recommendation: KC +3.5
Analysis
If you had of told me that the Rams were going to put up 54 points and Mahomes was going to turn the ball over 5 times, I probably would have said, "oh well, we still have the hook. Let's roll."
I'm kidding, but I do want to emphasize the importance of the 3 point hook. I'll highlight Dom's blog here explaining more.
I don't know what to say about this game. If you didn't watch it, I'm sure the All-22 will be on PornHub in short order. It had everything. Literally everything: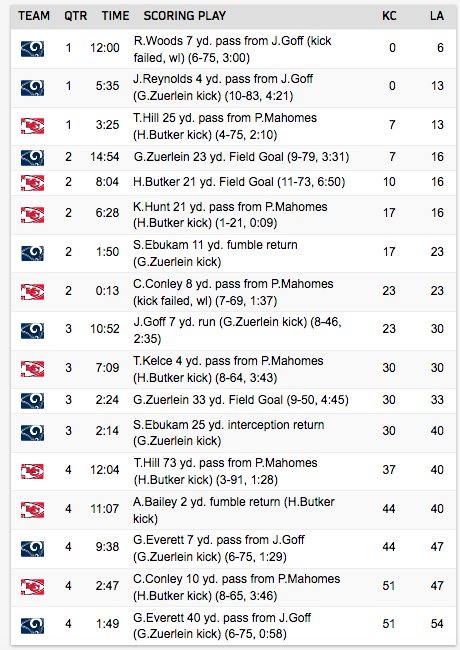 Touchdown passes from 40 yards out. Touchdown passes 73 yards out. Interception returns for touchdowns. Fumbles for touchdowns. It was a back and forth, high scoring barn burner. There were over 100 points and 1,000 yards. I plan on using that picture above as my Christmas card.
To review some absurd stats:
-TyFREAK Hill had 10 catches, 215 yards, 2 TDs
-Travis Kelce went 10 catches, 127 yards, 1 TD
-Brandin Cooks had over 100 yards
-Jared Goff threw for over 400 yards and 4 TDs
-Pat Mahomes threw for 478 yards and 6 TDs
-Aaron Donald had 10 pressures, 2 sacks, and forced 2 fumbles
In the end, the biggest difference has to be Mahomes 3 INTs and 2 fumbles. You can't turn the ball over 5 times and win, even if you still drop a 50 burger (apparently).
Final score: Los Angeles 54, Kansas City 51
BONUS GAME: As mentioned in the Sunday morning blog, we all got in on the Saints as we noticed the line moved away from the model without any significant news. The Saints ended up crushing, so that was a win for us, but I won't count it in our record. Even though we recommend getting in early, it's important to keep checking the line movements and injury news we post here (all free). Of course, if I do get in on a game that isn't specifically recommended I will share it on the site.
YTD Results: 19-16-1 (54%)
Week 1: 1-2-1
Week 2: 2-2
Week 3: 3-0
Week 4: 1-1
Week 5: 0-3
Week 6: 2-1
Week 7: 1-2
Week 8: 2-1
Week 9: 3-2
Week 10: 1-2
Week 11: 3-0