Kansas City @ Oakland
Vegas: OAK +15
DomModel: OAK +19.506
Recommendation: KC -15
Key injuries:
Kansas City Chiefs: (week 12 bye)
-WR Sammy Watkins (foot) did not practice on Wednesday (11/28) and Thursday (11/29). Watkins played just 5 snaps before the bye week. He's looking less and less likely to play.
-C Mitch Morse (concussion) was injured during his week 6 game and was INACTIVE weeks 7 – 11. He practiced in full on Wednesday (11/28).
-RG Laurent Duvernay-Tardif fractured his fibula during his week 5 game and did not return. HC Andy Reid said he isn't done for the year, but he'll miss time (likely around 8 weeks).
-C/G Jordan Devey (pectoral) was placed on IR.
-S Eric Berry is till recovering from an Achilles injury he suffered week 1 of 2017. He has not played this year. He was limited in practice on Wednesday (11/28).
Oakland Raiders:
-QB Derek Carr (ankle/concussion) was injured week 12, but was able to finish the game. He practiced in full on Wednesday (11/28).
-WR Martavis Bryant (knee) was injured week 10. He was INACTIVE weeks 11 and 12. He did not practice on Wednesday (11/28).
-WR Brandon LaFell (Achilles) was injured week 11. He is on IR.
-RB Marshawn Lynch (groin) is on IR, effective 10/22.
-DI Justin Ellis (foot) was added to IR.
-K Mike Nugent went on IR.
Quick note on this one: the Vegas consensus is at an awkward 15 points. We're totally fine with betting that, but my recommendation is to wait and see if you can get it at 14. If you can't, just bet Kansas City on Sunday.
Breakdown:
When Kansas City has the ball:
The model had to take a break from betting KC, since they were on a bye last week. Model's don't have feelings, but I imagine it would shed a robot tear if it was capable, because it legit goes after Kansas City every week. Meanwhile, Kansas City is 8-2-1 against the spread this year. Not that I really care about that — I trust the model regardless — but it's at least letting us know that the KC results have worked out in our favor.
If you read this column regularly, you already know the deal with the Chiefs. If you don't, shame on you. I'll break them down quickly anyway, because I'm a nice guy.
Quarterback: Though Patrick Mahomes appears human, his arm isn't. It does things that human arms aren't supposed to do. He's probably second in the MVP race behind Drew Brees right now.
Offensive line: Kinda sucks, to be honest.
Running back: Kareem Hunt. He lead the league in 2017 (his rookie year) in rushing, and is 5th this year. He excels at leaping over people.
He is good at football.
Receivers: Lead by TE Travis Kelce and Tyreek Hill. Kelce is on pace for 1,300 yards and 10 TDs, while Hill is on pace for 1,600 yards and 11 TDs. Per Hill's twitter account, he is faster than you.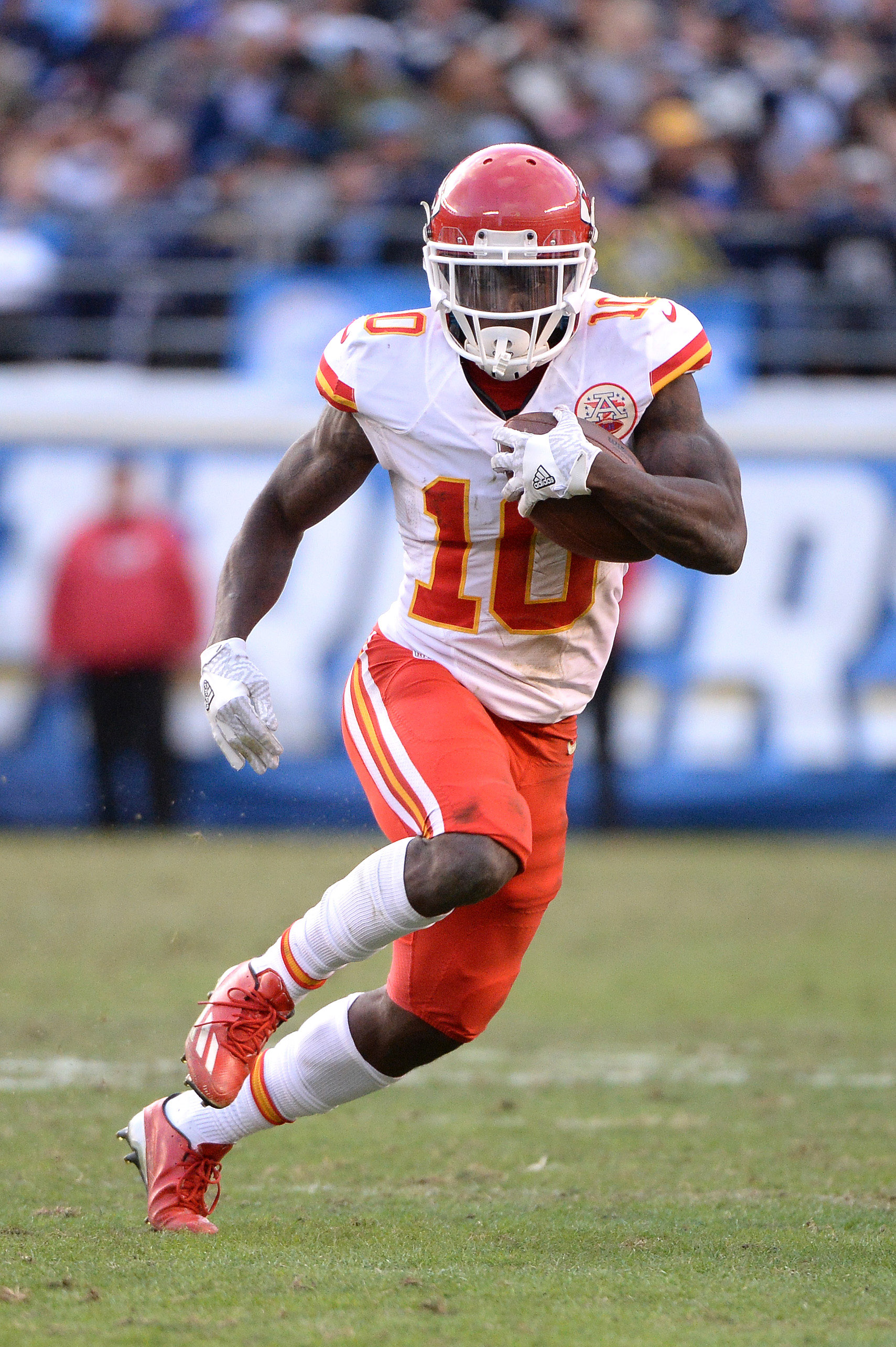 Behind Kelce and Hill is Sammy Watkins, who is in danger of not playing after missing practice on Wednesday and Thursday. If Watkins can't go, Chris Conley will be the next man up. Watkins played just 5 snaps last week, and Conley went off for 7 catches for 74 yards and 2 touchdowns. In terms of the spread, I couldn't care less if Watkins plays or not. 
Oakland defense:
Let me put this nicely – the Raiders defense sucks. They literally don't do anything well. Their two leading pass rushers in terms of pressures are Arden Key and Bruce Irvin. Key leads the team with 20 pressures, while Irvin has 10. Combined, they have less pressures than Khalil Mack, who has 37 despite missing two games. I'm not sure why I used Mack as a comparison. I swear, it was totally random. The Raiders give up 8.8 yards per attempt through the air, and 4.9 yards per attempt on the ground. They are ranked 30th in defensive DVOA.
They suck.
TL;DR Conclusion: Pat Mahomes and the Chiefs offense will make it rain out there. They are in position to put up as many points as the game clock will allow.
When Oakland has the ball:
The Raiders offense has been a bit of a mess this year. QB Derek Carr is having another down year – he's on pace to barely crack 4,000 yards and has almost as many INTs (8) as he does TDs (13). Not that it's totally his fault — the Raiders have one of the worst offensive lines in football, are without their starting RB (Marshawn Lynch) and a healthy portion of the Raiders receivers are either traded or.. well, not healthy. This includes Amari Cooper, who was traded to the Cowboys, as well as injuries to Brandon LaFell and Martavis Bryant. When you add all that up, it's easy to see why the Raiders have one of the worst offenses in football.
Kansas City's defense:
The Chiefs defend much better against the pass than they do the run. Their pass rush is lead by Dee Ford, who is in the middle of a breakout year. Ford already has 10 sacks and 59 total pressures. Chris Jones is an effective rusher from the interior as well — he totals 9 sacks and 46 pressures. Their secondary has remained healthy, and they finally have a chance to get Eric Berry back this week. Berry is a difference maker at safety, capable of both coming down to the line of scrimmage to cover tight ends or play deep at free safety. The problem with Berry is he hasn't played since week 1 of 2017 (yes, not a typo), so we have no clue what player we'll get. Either way, it's exciting news for the Chiefs.
Against the run, the Chiefs give up 5.0 yards per carry and are dead last in run defense DVOA. That's especially interesting considering you expect good teams who are constantly winning to look bad against the pass. The Chiefs just stink at stopping the run.
TL:DR Conclusion: The Raiders offense has been a mess this year, and the Chiefs don't totally suck against the pass, but do against the run.
The bet Mahomes at all costs movement rolls on. That's it for now, bitches.